Works in commission.
I do commissioned assignments in different genres and themes. Here are some examples,

To an orphanage on Fyn
Pigment-painting on canvas.
200cmx200cm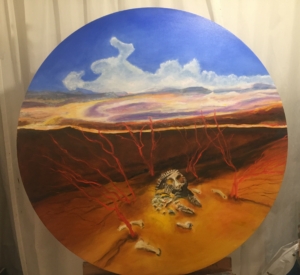 Portrait of a painting to a private.
Oilpainting on a round  canvas.
100cm in diameter.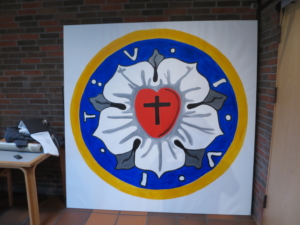 Luther-rose to a church ceremony.
Acryl on canvas.
200cmx200cm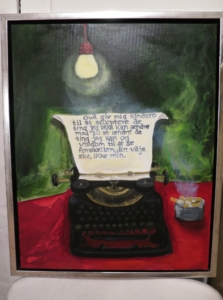 Serenity-prayer.
Oilpainting on canvas.
50cmx30cm

Cycling with the elderly.    Nanna in Nyboder.
Oil on canvas.
130cm x110 cm

Portrait of Pernille.
Oilpainting on canvas.
75cm x 50cm
I've held workshops with
Confirmands, pre-confirmands, nursing home residents, the mentally ill, asylum seekers, businesses, private individuals
Themes I've worked with:
Friendship, creation, love, visions, faith, nature, pets, picture memories, life stories, adventure travel, light/dark contrast
We agree on the theme together.
I supply all materials.
During the workshop we work with:
Collage painting, frescoes, altar pieces, painting, still life, clay
The workshop may either be a single 1 ½ -2 hour session or a course consisting of multiple sessions.
In 2017 and 2018 Farum Parish in collaboration with Sibelle Tvermoes held a series of workshops for confirmands. In 2017 we held 9 four hour workshops and in 2018 we held 4 two hour workshops.
Our confirmand classes are very large, as many as 35 pupils per class, so we divided the class into two groups. Half the class received instruction from the pastor while the other half worked on creative processes with Sibelle Tvermoes. Half way through, they switched and the program was repeated.
Our workshops had three themes : creation, faith, and friendship.
The confirmands made clay sculptures when working with the theme of creation and painted with acrylics for the other themes. Sibelle's approach is meditative. She manages to create a contemplative space for even the most unruly children. The focus of our workshops was on the process rather than the product.
When the children were working creatively, meditative music was played that matched their musical interests and helped create a space of stillness and contemplation.
Sibelle provided all the materials herself (clay, paint, paper, etc.), which was extremely laborsaving for us. Prior to the workshops themselves we discussed the contents of the three themes with Sibelle. The courses were excellent and we saw how the children came in contact with themselves through the creative process.
I give Sibelle my very highest recommendation. She has extensive experience working with confirmands and their parents, and her workshops with creative processes would also be extremely relevant and inspirational at nursing homes or other institutions.
Dorothea Glöckner
Pastor, Farum Church
My confirmands participated in a weekend event where Sibelle was the teacher and worked with the confirmands in small groups. Sibelle and I had agreed on a theme called The Church: the Outer space and the Inner Space.
Together Sibelle and the confirmands examined what the inner religious space might contain. Each confirmand had to express this artistically and received expert guidance from Sibelle.
There was an incredible stillness in the room where Sibelle and the confirmands were working. The result was beautiful artwork, which the confirmands proudly displayed the next day. Each of them got an awful lot out it.
I certainly hope to work with Sibelle again and give my very highest recommendation to her artistic expertise and her calm personality.
 Pastor Rachel Wille Christoffersen
My 45 confirmands and I had the pleasure of spending a whole day with Sibelle Tvermoes in Kirkeladen i Tikøb. The theme was the Inner and the Outer Space. The confirmands were divided into three groups and took turns receiving instruction in collage from Sibelle. This resulted in 45 beautiful collages which were subsequently put on exhibit. The confirmands themselves were amazed by their results, and photos taken of the students as they worked show a high degree of focus and concentration, owing in large part to Sibelle's exceptional abilities as a teacher and her calm personality.
The event will certainly be repeated.
Pastor Annemette  Nissen